Skip Navigation
Website Accessibility
Founding and Early Days


Merion Art and Repro opened their doors for business under the name of Merion Whiteprint in November 1971. Two buddies from the Army Reserves, Ed Gamburg and Lou Simeone decided to open a business that printed whiteprints (similar to blueprints) for local architects and builders. They rented a small storefront, a whiteprint machine, and a Ford pinto to make deliveries and with one employee, their journey began.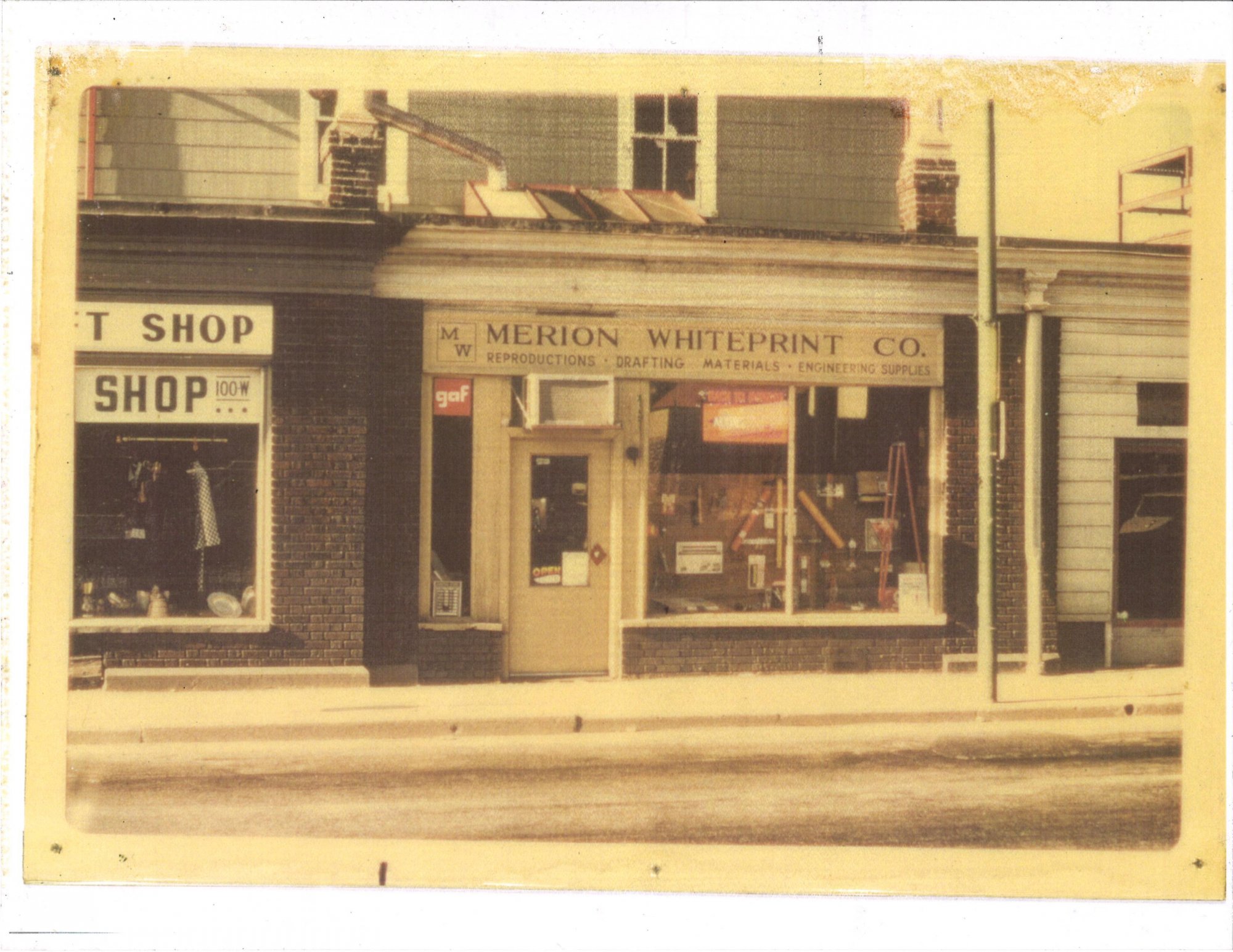 The original Merion Whiteprint, circa 1971
---
Merion Whiteprint expands, c. 1974
Business Expands
Soon Ed and Lou expanded the business to address additional needs of their customers. They created one-stop shopping for architects and builders by selling drafting and drawing materials and other supplies as well. The next move in their expansion took place in 1973, when they made the decision to buy the inventory of a local art store that was closing. To accommodate this expansion into art supplies, they rented the space next to their store and hired local artists and art students as retail sales associates. These employees brought their knowledge and expertise in art and art materials to this new division
which was to become an integral part as the business grew..
---
Time to Move!
The sale of art materials soon equaled the reprographic sales division of the business. With this growth, it became apparent that it was time to expand again. Merion Art rented an adjacent storefront, and by 1976, Merion Whiteprint, Inc. occupied 100, 102, and 104 West Lancaster avenue. The store extended to the corner and with this expansion the business was renamed Merion Art and Repro Center. Business continued to flourish and by 1980 it was time to expand again! The store was re-located to a larger location down the avenue to its present location at 17 West Lancaster Avenue in Ardmore, PA where the store has been a permanent fixture in the Ardmore Business community for the past 40 years!
The first few years in our current location, c. 1980
---
Merion Art and Repro Center c. 1991
Changing With The Times
In the late 1980's, with the introduction of computer technology; architects, artists and designers changed the way they did their work. Demand grew for new products and materials from customers as they made the switch to computer assisted design. Their printing needs changed as well. Old whiteprint machines became obsolete and were replaced with new computerized large-scale printers, laminators, and dry mount machines.
The early 90's brought a major inside store renovation and included cosmetic changes to the exterior of the store. In 1992, Custom Framing was added as an integral part of the business. Custom Framing was a perfect complement to the art supply division. With this, Merion Art now had the capability to sell materials to create the art, reproduce art through the reprographics department and to display and preserve art with professional custom framing, as well.
---
Transitioning Into the 21st Century
Beginning in the early 2000s the next challenge came from the Internet. At this time, large corporations and big box stores threatened to undercut prices of products sold in small local businesses such as Merion Art. To counter this issue Merion Art joined IamArt, a Collective buying group of independent art stores across the country. This buying consortium allowed members, such as Merion Art, to attain exclusive deals from suppliers and to pass their savings on to customers.
Merion Art focused on important things the Internet could not provide, personal point of view, physical presence, human connection, and a knowledgeable and friendly staff. Around this time Merion Art instituted a 20-question quiz about art materials which all sales associates were required to pass. Merion Art continues to use this quiz when hiring new staff today. The test is comprised of product questions that may be difficult for the layperson to answer correctly but are common knowledge for artists. This assured that all sales associates have a strong art foundation and working knowledge of the products they might sell and recommend. The bottom line is the customer wins when sales associates share their expertise.
Lou Simeone
Sadly, in December 2013, Lou, one of the original founders of Merion Art, passed away. During his 43 years at Merion Art, Lou was a familiar face on the sales floor. He spent much of this time interacting with customers, making certain every customer had a great shopping experience. Lou was much loved by staff and customers alike and was a driving force in the growth and success in Merion Art. His presence is greatly missed.
---
Moving Forward
Changes in technology are inevitable in a thriving business in the 21st century and Merion Art is no exception. In 2014, Merion Art transitioned to a new Point of Sale computer system, replacing the system that had been in place since the 1980's. This system allowed for seamless integration with the web, ordering products, and keeping track of stock more efficiently. In 2020, we find ourselves at another point of change and are implementing a new computer system. This will allow us to create an on-line store for your convenience. Progress never stands still!
In 2015, we were honored to be featured in the national publication of art materials retail magazine, the leading informational magazine for retailers of art and architectural supplies.
You can read our spotlight article here.
---
50 Years and Still Going Strong!
Beginning in November 2020, Merion Art will celebrate the beginning of 50 years in business, our GOLDEN ANNIVERSARY- serving the art community of Ardmore! Over these past 50 years we have changed with the times and continue to re-invent ourselves. The store now carries a huge selection of fine art products that dwarfs the small shelf of drafting supplies Ed and Lou began with 50 years ago. The entire staff has an impressive breadth and depth of art experience, including professional fine art artists, graphic designers, tattoo artists, set designers, graduates of prestigious art colleges and professional framers.
The repro department now includes digital photo printing, large scale planning and graphic design. The framing department has expanded to frame museum quality works of arts, in addition to framing art pieces for large corporations and for nonprofit organizations. We also help preserve memories created by our children, shadow boxes full of memories, and can restore old photos to remember those who are no longer with us.
Over the years we have added art products and creative projects for children, the future artists of the world. We have also added online ordering and social media outreach via Facebook and Instagram to our repertoire of services available for our customers.
During these 50 years, however, our core values remain the same. The focus today is the same as it was in 1971: to provide exceptional customer service, quality materials, reliable information, and a variety of new products, to assist architects, artists, designers, and crafters so they may to further develop and enrich their creative process.
We look forward to seeing you in the store… on-line or on the Avenue!